EPA Identifies and Publishes 40 Chemicals to Prioritize for Risk Evaluation.
WASHINGTON (March 20, 2019)
Today, the U.S. Environmental Protection Agency (EPA) is publishing a list of 40 chemicals to begin the prioritization process – the initial step in a new process of reviewing chemicals currently in commerce under the amended Toxic Substances Control Act (TSCA).
"EPA continues to demonstrate its commitment to the successful and timely implementation of the Frank R. Lautenberg Chemical Safety for the 21st Century Act," said EPA Administrator Andrew Wheeler. "We are delivering on the promise of Lautenberg to better assess and manage existing chemicals in commerce and provide greater certainty and transparency to the American public."
"Initiating a chemical for high or low prioritization does not mean EPA has determined it poses unreasonable risk or no risk to human health or the environment; it means we are beginning the prioritization process set forth in Lautenberg," said Alexandra Dapolito Dunn, Assistant Administrator for EPA's Office of Chemical Safety and Pollution Prevention. Scroll the list below or visit EPA Website for the origin publication.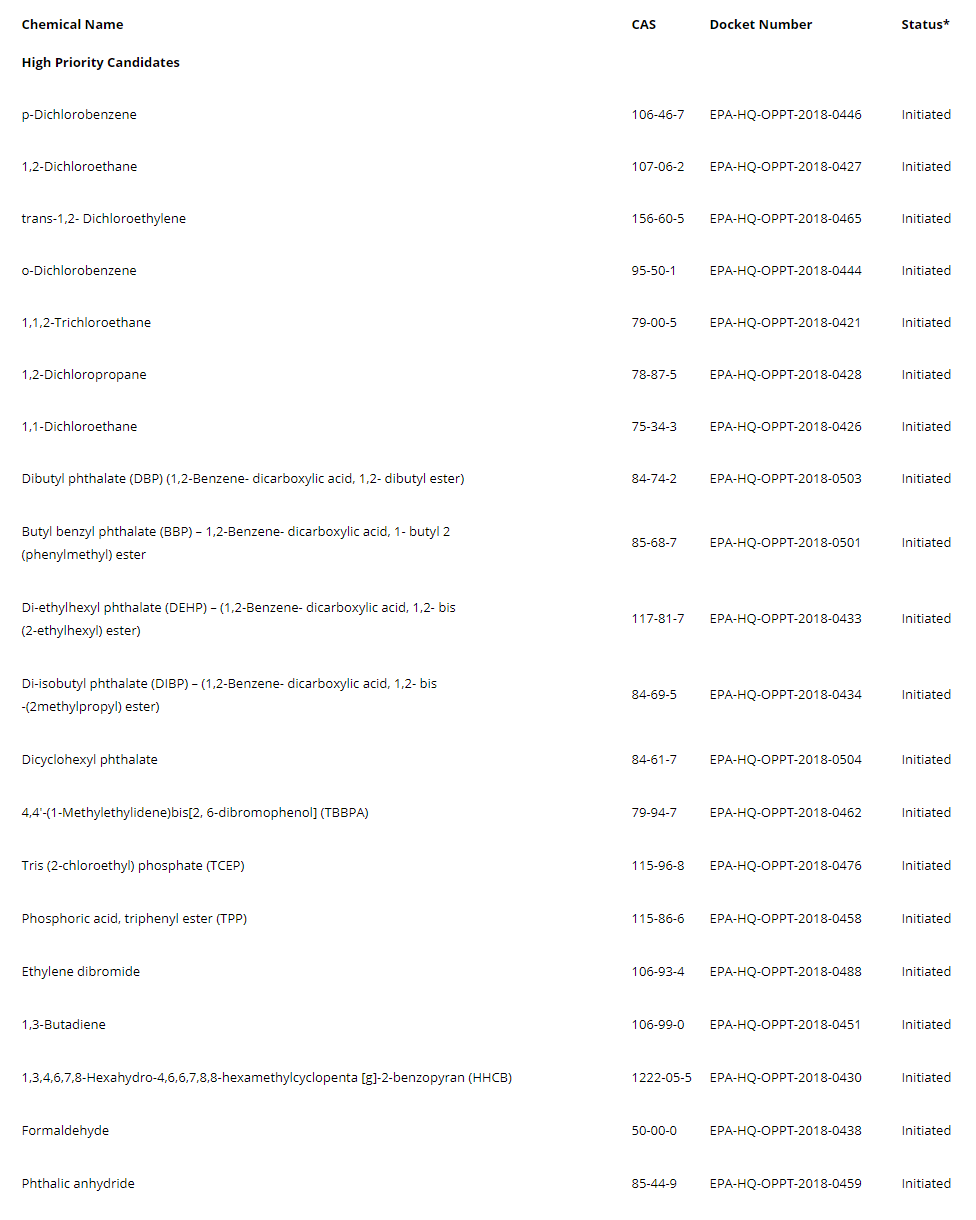 *Status is listed as either:
Initiated – The first step of the prioritization process, and the chemical is currently undergoing a screening level review of reasonably available information to information its priority designation;
Proposed – The second step of the prioritization process, when EPA proposes a chemical's designation as either high or low priority for risk evaluation; or
High/Low – The final step of the prioritization process. This chemical has been designated as high or low priority for risk evaluation.